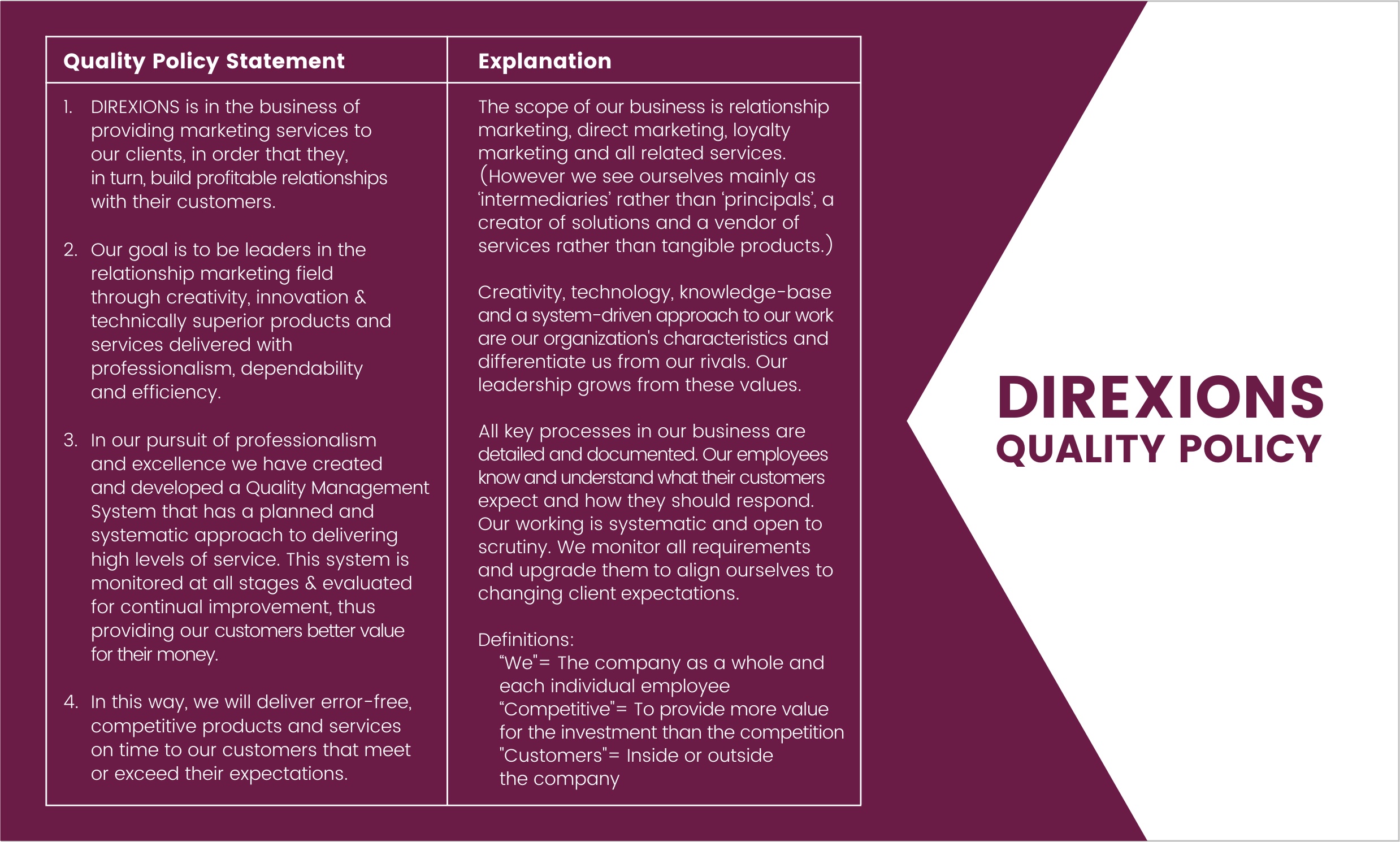 Quality Policy and Accreditation
Direxions is in the business of providing marketing services to our clients, in order that they, in turn, build profitable relationships with their customers.
The scope of our business is relationship marketing, direct marketing, loyalty marketing and all related services. (However we see ourselves mainly as "intermediaries" rather than "principals", a creator of solutions and a vendor of services rather than tangible products.)
Our goal is to be leaders in the relationship marketing field through creativity, innovation & technically superior products and services delivered with professionalism, dependability and efficiency.
Creativity, technology, knowledge-base and a system-driven approach to our work are our organization's characteristics and differentiate us from our rivals. Our leadership grows from these values.
In our pursuit of professionalism and excellence we have created and developed a Quality Management System that has a planned and systematic approach to delivering high levels of service. This system is monitored at all stages and evaluated for continual improvement, thus providing our customers better value for their money.
All key processes in our business are detailed and documented. Our employees know and understand what their customers expect and how they should respond. Our working is systematic and open to scrutiny. We monitor all requirements and upgrade them to align ourselves to changing client expectations.
In this way, we will deliver error-free, competitive products & services on time to our customers that meet or exceed their expectations.
Accreditation
Our Quality Management System (QMS) stemmed from our Quality Policy and vision. Every Direxionite is driven by the company vision and is committed to living this vision through our client experience and interaction.
At Direxions, the QMS approach helps us emphasize the importance of:
Understanding and meeting our customer requirements
Considering the value addition from each individual process which is part of the system
Objective measurement of our processes and Continual improvement for sustained effectiveness
At Direxions, processes essential for effective planning, operation and control have been carefully documented. These processes are robust yet dynamic – open to change for improvement. We have brought and continue to bring value to our customers, because of the robustness and consistency of our processes and services.
Continual improvement at Direxions comes alive through periodic review of our Service Objectives, Internal Audits and Corrective Action initiatives.
As India's premier provider of customer loyalty and relationship marketing services, Direxions sees the following advantages in implementing a Quality Management System:
Teams that fully understand the value of quality in whatever services they provide clients
Process orientation which enables clients and their customers get a consistent delivery of high quality services, which is essential for building customer loyalty
Helping us to constantly set the benchmarks for service standards for direct marketing, loyalty and relationship marketing services in India.